Announcing a Practitioner's Handbook on Open Access in Interlibrary Loan
Delivering Open Access content through interlibrary loan holds enormous potential for cost savings (as this recent study continues to show), as well as the discovery and creation of Open Access content when it's needed most. However, it comes with new knowledge for practitioners to learn, and challenges to tackle. With DeliverOA, we collaborated with the community to develop a tool to make this easier for staff by integrating Open Access discovery and delivery into their day to day workflows.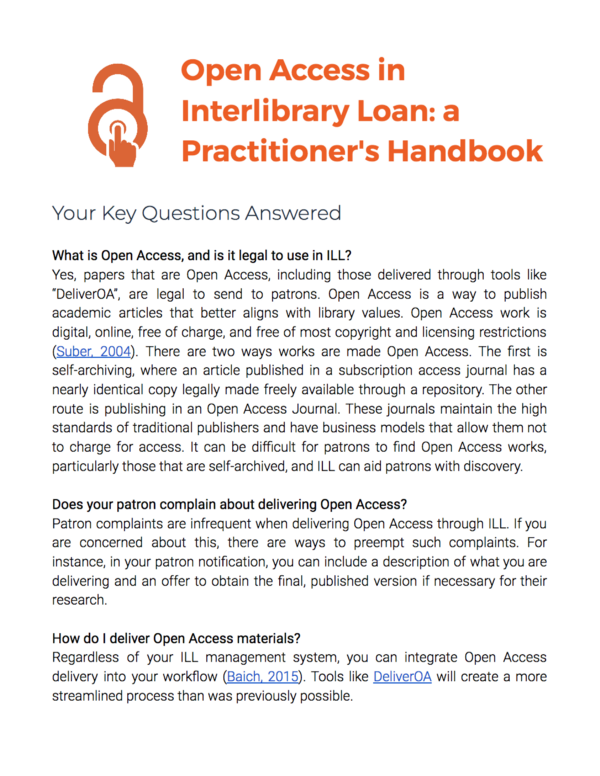 Today, we're announcing a handbook for practitioners who'd like more knowledge on Open Access to realize the benefits in cost, speed, and ability to fill. The handbook, developed in collaboration with Tina Baich, Associate Dean for Collections at IUPUI University Library and ex-Chair of ALA RUSA STARS, answers key and common questions around Open Access from practitioners and provides vital background information in just two pages.
You can find the handbook, "Open Access in Interlibrary Loan: a Practitioner's Handbook," here, available on the web and as a PDF, with easy routes to contribute feedback and additions. Of course, it's licensed so you can reuse and remix in your training materials or wherever else you'd like to use it.
We'll continue to update the guide as we hear more about the challenges faced, and information required to integrate Open Access into this critical library service. If you'd like support integrating Open into your interlibrary loan service, we'd love to hear from you.