Diego Gomez stands trial for sharing research #standwithdiego
30 June 2015
30 June 2015
Last Summer, a number of organisations learnt about the case of Diego Gomez. Diego Gomez, a Colombian graduate student, currently faces up to eight years in prison for doing something thousands of researchers do every day: posting research results online for those who would not otherwise have a way to access them.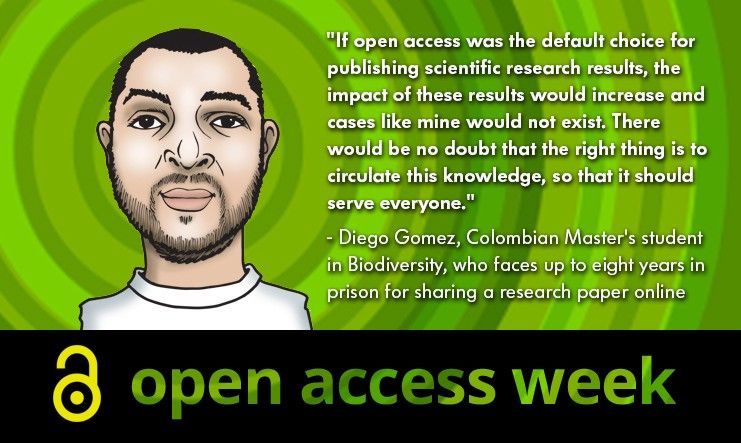 (Photo Credit: Electronic Frontier Foundation. CC-BY
Last week Diego posted a letter on Fundacion Karisma's website informing us that his trial begins today on 30th June. Ahead of his today, show your support for Diego by signing and sharing the petition. Help us spread the word about the bad law that turned this student into a criminal, and show your support for advancing open access worldwide.
Diego is currently a Masters student in conservation and wildlife management in Costa Rica, and like many in his area, he faces difficulty in accessing the latest research and databases that he needs to undertake his research. He shared an academic paper on the digital library Scribd for the benefit of researchers but when the author of the paper later found out about this, they decided to press criminal charges against Diego last year. Due to Colombia's over-restrictive copyright laws, he could go to prison as well as face huge monetary fines. If convicted, Diego could face a prison term of 4–8 years.
You can read more deeply about Diego's case and it's implications at Electronic Frontier Foundation's Deeplinks Blog andCreative Commons Blog