Open Access Button Founders Honoured with SPARC Innovator Award
6 February 2015
6 February 2015
Yesterday as Open Access Button Co-founders and Co-leads, we (David Carroll and Joe McArthur) received the SPARC Innovator Award. The Innovator Award recognises individuals, institutions, and groups that challenge the status quo in scholarly communication for the benefit of researchers, libraries, universities, and the public.
We are extremely honoured to have received the award, especially given the calibre of previous SPARC Innovators. Again, we want to make sure we take this opportunity to recognise and thank the vast number of people, especially SPARC staff, who have been involved in bringing this project to where it is today, we are in an untold debt to them all. The award certainly marks a milestone in our journey, and one that we hope will support the Open Access Button continuing to be an impactful initiative.
We are currently working hard behind the scenes with our team to improve the Open Access Button and set a solid course for the future. In the year ahead we will put the focus on getting the Button in more browsers and telling powerful stories about the impact Open Access can have. For more, keep an eye out for our soon to be released annual report (sneak peek below) and some exciting announcements coming soon.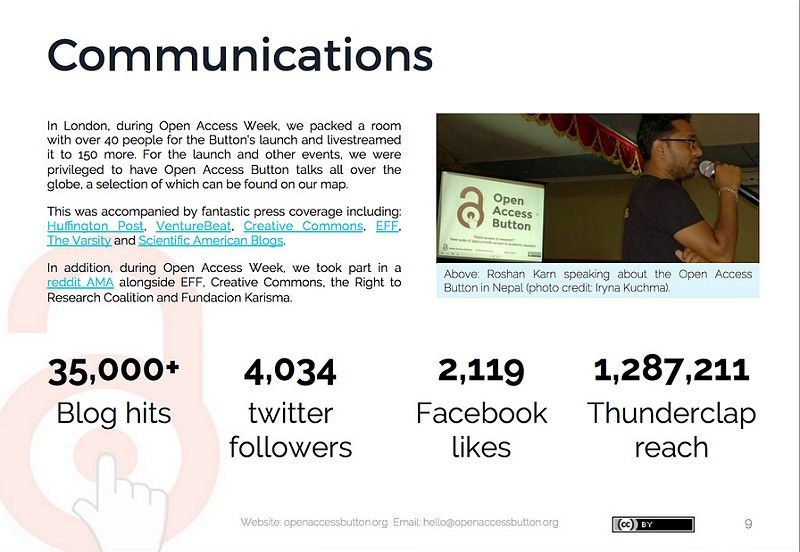 Above: A draft excerpt from the soon to be released Open Access Button Annual Report.
The full text of the SPARC Innovator Award, which tells the story of the Open Access Button, our joint journey as founders and the power of collaboration, can be found here.
Authors — David Carroll and Joe McArthur (aka, The Button Boys)