Partnering with Montana State to make self-archiving simple with Shareyourpaper.org.
"We're excited to finally build everything we've learned from mediated deposit into a simple tool, rather than a dozen workarounds, this tool enables every library to make self-archiving not just the right thing, but the easy thing, for every author"
- Leila Sterman, Scholarly Communication Librarian, Associate Professor, Montana State University Library
As we announced in June, shareyourpaper.org automates the deposit workflow — completing forms, checking what you can archive legally, and verifying the correct version is shared — so that authors can upload their papers without libraries having to check their work. These features can reduce the deposit process for your repository to a single click from your website, saving both depositor and library staff time.
We're partnering with Montana State University Library, and building on years of libraries' collective experience, to develop the tool. Through discussions with Montana State and the 80 other libraries that have expressed their interest, we've significantly refined the tool.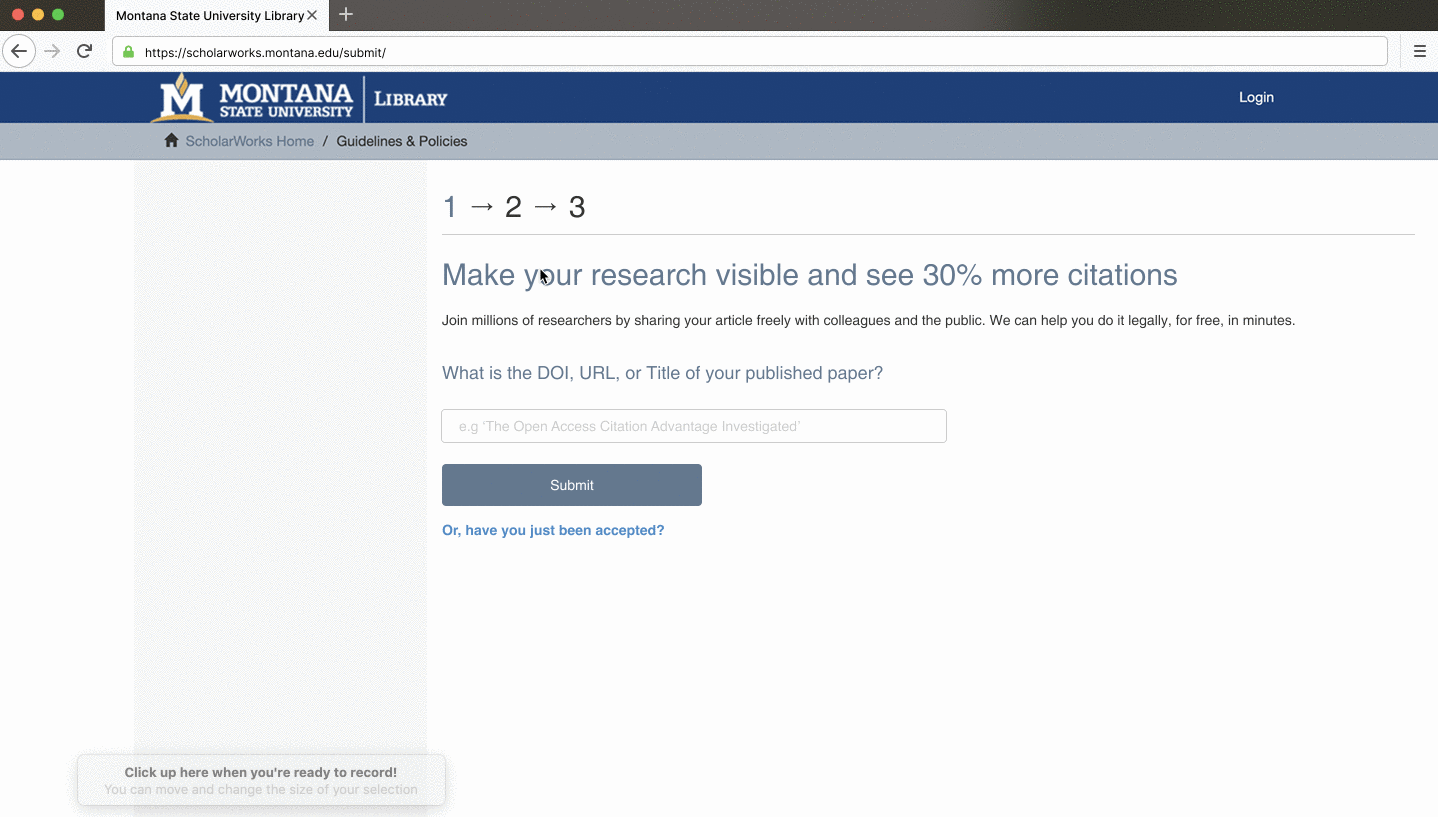 One of the most powerful features of shareyourpaper.org is that it embeds on your website, with your branding and domain, by adding a single line of code. We're thrilled to say that this will be available to anyone for free.
In June, we considered the possibility of embeds as a paid feature, but after consultation we found a route that better meet our values. We are excited to present a structure that allows anyone to make full use of the tool to advance open access to scholarly literature, while providing valuable benefits to libraries who support it. Library leaders who support our work will receive branded cover sheets, custom and complete metadata on submission, human review of file deposits, and direct integration with your repository. We'll also help with outreach by ensuring that library staff is included on any emails we send through our request system to authors at your institution. Other key elements of our route to sustain shareyourpaper.org — flexible costs for libraries big and small, upgraded versions of other tools such as InstantILL, priority support, input, recognition, and more — remain the same.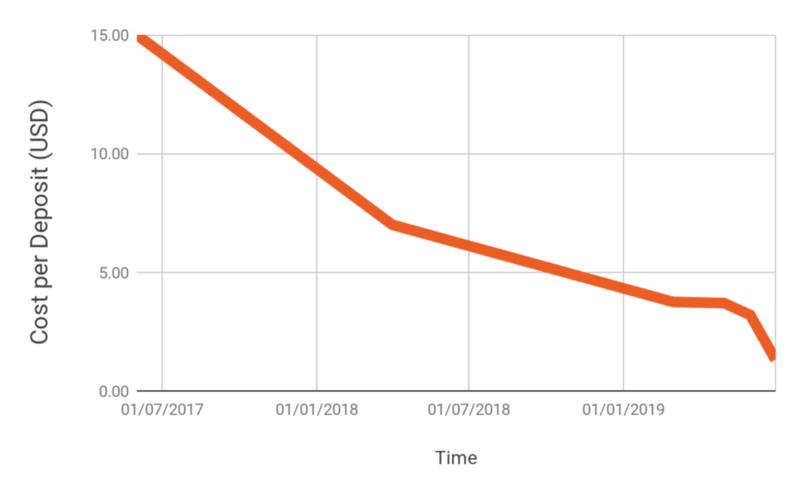 As we've built more of shareyourpaper.org's features, we've been thrilled to see our cost per deposit drop substantially, while not seeing any drop in our deposit rate and seeing an increase in the quality of records. Lowering the cost of deposit while ensuring high-quality metadata, accurate permissions checks, and that the legal version is archived is a key goal for shareyourpaper.org. To make sure we hit the goal, we've tracked the estimated cost per deposit (in terms of staff time) for our current deposit portal (used for our Request System) with authors' doing the deposit themselves.
Shareyourpaper.org is the culmination of years of work. The recent drop in cost per deposit is the result of our new Permissions Checking system, which was built from the ground up with University of Pennsylvania Libraries to lower the cost of self-archiving. We aim to drop the cost to essentially nothing in the next few months.

We are excited to partner with Montana State and work directly with Leila Sterman on this project because of MSU's long history of investigating and developing services that enable more efficient use and more clear understanding of institutional repositories. MSU's expertise is paying off in a number of improvements to shareyourpaper.org. Notably:
1. Always allowing deposit by leveraging one-click dark deposit (where work is placed in the institutional repository and accessible on request) when publisher permissions don't allow open sharing or author's don't have the right version. This means you can be sure that every time an author goes to deposit in your repository they can take a step towards more open sharing, their work is preserved.
2. Helping the library build relationships by making sure we notify libraries immediately when authors try to deposit or need help, not just when deposits happen successfully.
3. Focusing on what matters by streamlining the tool to get deposits at the time of acceptance and anytime after publication.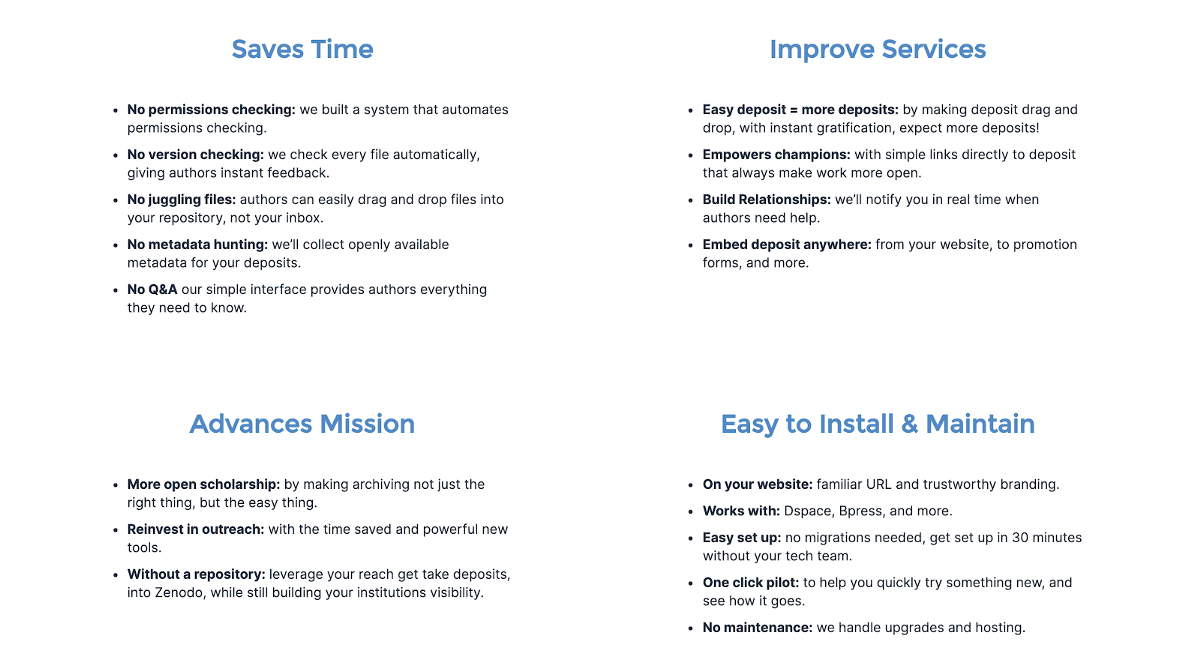 These changes complement the features we've already announced for shareyourpaper.org, and the integrations we're exploring with DSpace, Bepress, Islandora, and PASS so they can be used easily with shareyourpaper.org.
You can contribute to the development of an easy, equitable route to sharing now by testing our prototypes and sharing your feedback, or stay up to date and get early access by expressing your interest as shareyourpaper.org is built in the coming months.
Thanks to the Arcadia Fund, which generously supported our work.