"Researchers want to be read, acknowledged and quoted."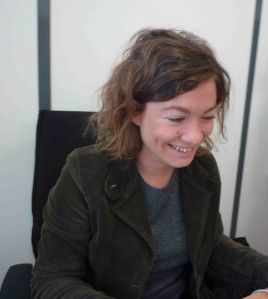 This week we interviewed Melanie Dulong de Rosnay, a permanent researcher at the French National Centre for Scientific Research (CNRS) Institute for Communication Sciences and a visiting Fellow at London School of Economics and Political Science Department of Media and Communications. Melanie was also the cofounder and former legal lead of Creative Commons France. During her fellowship at the Berkman Center for Internet and Society, Melanie deepened her awareness of the problems related to open access to data and publications. Also, her collaboration with Science Commons revealed the importance of openly sharing scientific data for the advancement of the sciences.
As an open access academic activist, she firmly believes that "researchers want to be read, acknowledged and quoted" on their work as widely as possible. The current publishing system does not ensure such dissemination. Her experience with open access publishing showed that many traditional publishers do not have sufficient knowledge in order to promote or use open licensing agreements with authors and it is usually at the hands of the authors to pay part of the publishing cost should the publisher consent to choosing an open access license. To this day, she has successfully published three open access books with publishers from three different countries but she acknowledges that the task becomes more difficult when researchers have limited funding. The management of the publications of the Communia network of the digital public domain exposed Melanie to the complexities of the authorization system to place in order to release research under alternative forms of licensing. Raising awareness regarding open access to scientific publications and research results was a key-point of the policies established by the subsequent Communia association which played a role in promoting open access policy discussions in the realms of the European Union.
What can be done to change the current publishing system? She believes that young researchers can do little to change the system by themselves, without the participation of senior researchers. It is up to the latter ones, according to Melanie, to publish their works in open access journals. This way, not only do they show their support to open access and help increasing the impact factor of such publication venues, but also they encourage the choice of open access for their students or early career researchers. Researchers can make the most out of the current system, using every tweak possible to put their work available online. At an individual level, this can be done by making sure the work gets published online as soon as possible or use double strategies and insist on publishing at least an equal amount of information in open access journals. Melanie also notes that publishing a preprint article online as a working paper can circumvent the embargo period imposed by many non-open access publishers. It is important according to her point of view that the current publishing system, however flawed, be exploited to the benefit of open access to its fullest extent.
Melanie believes that the role of online repositories (such as HAL) should be accentuated and that they can become a great tool to demonstrate the importance of open access to research. Also, portals such as openedition develop an added value to open access research. She has recently presented how the frustration of paywalls and being denied access to information has led to the expansion of the "academic piracy" phenomenon even among researchers using academic torrents aiming at a large distribution of their work. Specifically, she views the recent prosecution of the Colombian student Diego Gomez for posting a research article online as "flabbergasting". Although her personal research experience can be described as "access paradise" due to her researcher status in renowned institutions, she believes it is a matter of responsibility for every researcher to act in such a way that their work can be freely accessible.
Finally, she believes that the Open Access Button is a crucial and needed tool for open access activists. "When trying to change policies, it helps to build a narrative. We need stories and examples in order to raise awareness".
We would like to thank Melanie Dulong de Rosnay for taking the time to share her Open Access experiences with us, and we look forward to seeing her continued advocacy effort, as well as her future Open Access publications! You can follow her on Twitter at @melanieddr and follow the Open Access Button at @OA_Button. Be sure to download the Open Access Button at openaccessbutton.org and join researchers like Melanie in documenting the importance of open access.