Supporting Resource Sharing during COVID-19 with IFLA
If your library's ability to do resource sharing (i.e. ILL or document delivery) has been impacted by COVID-19, help is at hand. Interlibrary loan professionals at non-profit institutions can head to rscvd.org and volunteer librarians around the world will help to supply materials.
If you're not having trouble filling requests, fantastic! We would appreciate your help in joining other incredible librarians who've volunteered to assist in filling the more than 850 requests we've been sent in just the past week.
The service, called "Resource Sharing during COVID-19" (or RSCVD for short, pronounced "received"), was started by IFLA's Document Delivery and Resource Sharing (DDRS) Standing Committee in response to COVID-19's impact on resource sharing. With library buildings being closed and many services moved fully online, often resource sharing activities have become either impossible or very difficult for many libraries. This all comes at a time when users' information needs have often increased.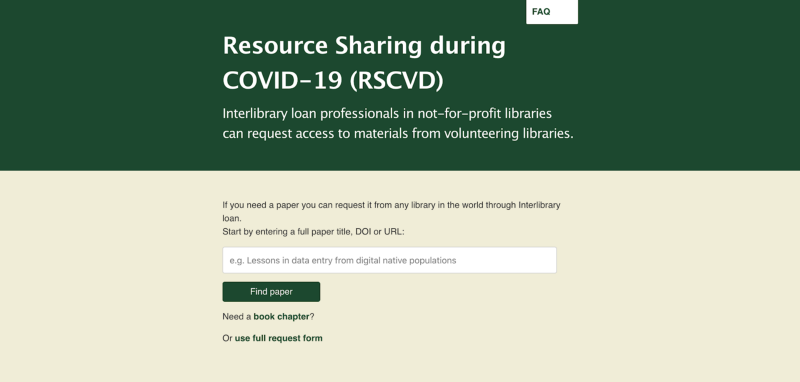 We've been honored to help support IFLA with rscvd.org. Within a few hours, we were able to set up InstantILL for their use, build the website, and set up systems to manage the ever growing list of requests. Given the emergency, we wanted librarians to benefit from a streamlined user experience and ensure anyone could submit a request. To do this, we used InstantILL to gather request metadata so librarians didn't have to re-enter it, and checked materials weren't Open Access before submitting to lighten the load on volunteers. We built an integration between InstantILL and Google Sheets so that volunteers could collaborate across ILL systems without excluding users in China who can't access Google Forms.
At Open Access Button, we've got a couple of other ways to help deliver resources during COVID. First, to lighten the load on interlibrary loan teams, try InstantILL. It's free, quick, and easy to integrate with your existing ILL system. We can also help your patrons find Open Access materials directly. We recommend letting them know about Unpaywall and the Open Access Button. Both tools will help them find Open Access articles quickly and easily. The latter works with authors on their behalf to make an open access version available. If your library's ability to provide access has been impacted by COVID in another way, let us know, and we'll try to help or send you to someone who can.
We would like to thank all the volunteers, the IFLA Document Delivery and Resource Sharing (DDRS) Standing Committee, and the Arcadia Fund for making this project possible.