Sustainability Without Scarcity: Our New Business Model with Equity at the Core.
For change, not for profit.
We've come a long way from our start as rag-tag volunteers out to change the world. As a founder and the director of the Open Access Button, I want to share how we hope to go further, and faster, with the support of libraries. Unveiling your business model is a big moment for any project. So, thankfully, I'm not tasked with justifying how we've sacrificed our values to be sustainable. Instead, I'll share our model to enable sustainability without creating scarcity and how we designed equity into its foundations. And, of course, I'll also ask for your library's support.
All of our products have been designed in partnership with libraries, from the ground up, in order to advance open while saving time, money, and improving essential services. We will never charge for these essential products. To us, this is the most important thing to ensure and for you to know. Our business model is simple: if our products are useful for your institution, we ask that you invest in them financially in exchange for peace of mind, recognition of your investment in open, and extra features (when they cost us to provide). We're confident that your savings will far outweigh what we suggest that you invest. There are no complex contracts or lock-ins. Just a quick online form, an invoice, and tangible benefits for your leadership and investment in non-profit, community-owned open infrastructure. We call this our "leadership" plan.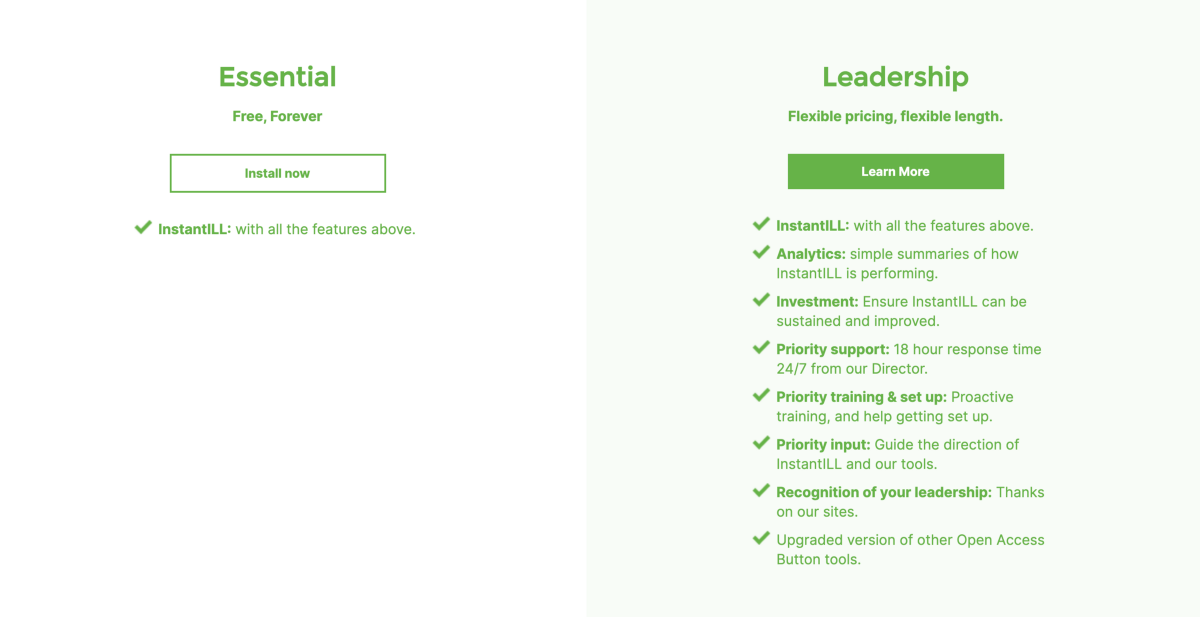 We call this the leadership plan because that's what it takes to join. Not deep pockets. Flexible, transparent investment options are available for libraries big and small. If those don't work for your institution, just talk to us. I'm proud to say that, even as we work to build our products, four libraries have already made the decision to invest as founding leaders. Two of these institutions libraries, IUPUI and Montana State, have also partnered with us to build InstantILL and Shareyourpaper.org. We're incredibly grateful for their leadership and the leadership we hope others will show in underwriting this work. Those who contribute by June 1st of next year will be permanently recognized as "founding leaders." If you'd like to join them, read on.

The Open Access Button was started by students fighting health inequalities, frustrated by paywalls, and inspired to action by the idea of creating a more open, equitable world. We work for change, not for profit, so we knew we had to design a sustainability plan that ensured full alignment between our business model and our commitment to equity, community, and openness. Said another way, we understood that, if we earned money doing the wrong thing, we would never meet our mission. Three years ago, as we began exploring how to do this during our shift towards working with libraries, equity was a first principle; it's a principle that we're glad to see increasingly celebrated and shared by libraries, and required of vendors. Three years is a long time. We took the time to intentionally design, consult, and plan, while building equity into our foundations, our new products, and our day-to-day work with the library community.

With the goal of guaranteeing that our sustainability model is hardcoded to promote equitable infrastructure for open research, we followed these principles:
We've failed if users have to pay to use our tools to advance open.
We must make our tools and business model work for every library, so they're frictionless for any library, big or small.
We must make shared open infrastructure as impactful locally as it is globally. Our tool shouldn't just only advance open in a nebulous way. They need to provide real benefits on campus.
We invite critique on this experiment. It's an experiment, fundamentally, in trust. We don't reserve our best features to encourage people to pay. Rather, they're given away, forever, not just for now. Thinking like that won't get us a prize for "best freemium model." According to that philosophy, we should be saving the best features for those who pay, or treating our users as the product and selling their data and attention to the highest bidder. Alternatively, we could give away everything until the venture capital ran out, and we get bought. But this is not our way. Instead, we're fully committed to prioritizing equity, not profit. Instead, we choose to trust that if we build valuable products while making it easy to support them, the community will work hand in hand with us to sustain them. To some, this may seem naive, and that's okay. From day one, trusting communities is always how we've gotten results, and we're not going to stop now. So… 🤞.
On behalf of our team, I'm so proud to share this major step forward in our journey to build for change, not for profit. We started with a grassroots effort to pioneer delivery of open access content, especially through browser plugins. Tools that do that, including ours, are now used by nearly half a million people and by institutions for alternative access. With our shift to working directly with libraries, we worked to highlight the lack of, and potential for, Open Access content in Interlibrary Loans while both building systems and creating the desire to quickly fuel change. Now, with InstantILL.org and Shareyourpaper.org, we're making simple powerful tools for any library to deliver, after less than one hour of set up, any article without subscriptions through one tool and to allow frictionless self-archiving into its repository with one click.
We hope, first and foremost, that you consider adopting our new tools. After all, your time, labor, and expertise went into building them with us. Then, if you can, we hope that you will show your leadership by financially investing in the future of equitable infrastructure for open.
Joe McArthur
Director, Open Access Button