OA.Works' receives grant from Robert Wood Johnson Foundation
Helps enable OA.Report to support more organizations to discover, analyze, and unlock papers they've supported.
We're excited to say OA.Works has received a one-year grant of 100k from Robert Wood Johnson Foundation (RWJF) to continue developing OA.Report. This investment builds on our partnership with the Bill and Melinda Gates Foundation to enable more organizations to use OA.Report to discover, analyze, and unlock papers covered by OA policies or supported by their funding and staff. Find out more about how OAreport can help your organization on our website.
"The Open Access policy at the Robert Wood Johnson Foundation is critical to our mission because we believe that the research we fund can play a key role in establishing the evidence base for a Culture of Health and improving health, well-being, and equity in America." said Leia Carey, Research Associate at RWJF, "We are excited to support OA.Works in solving challenges associated with tracking peer-reviewed publications and overall policy compliance for us and others."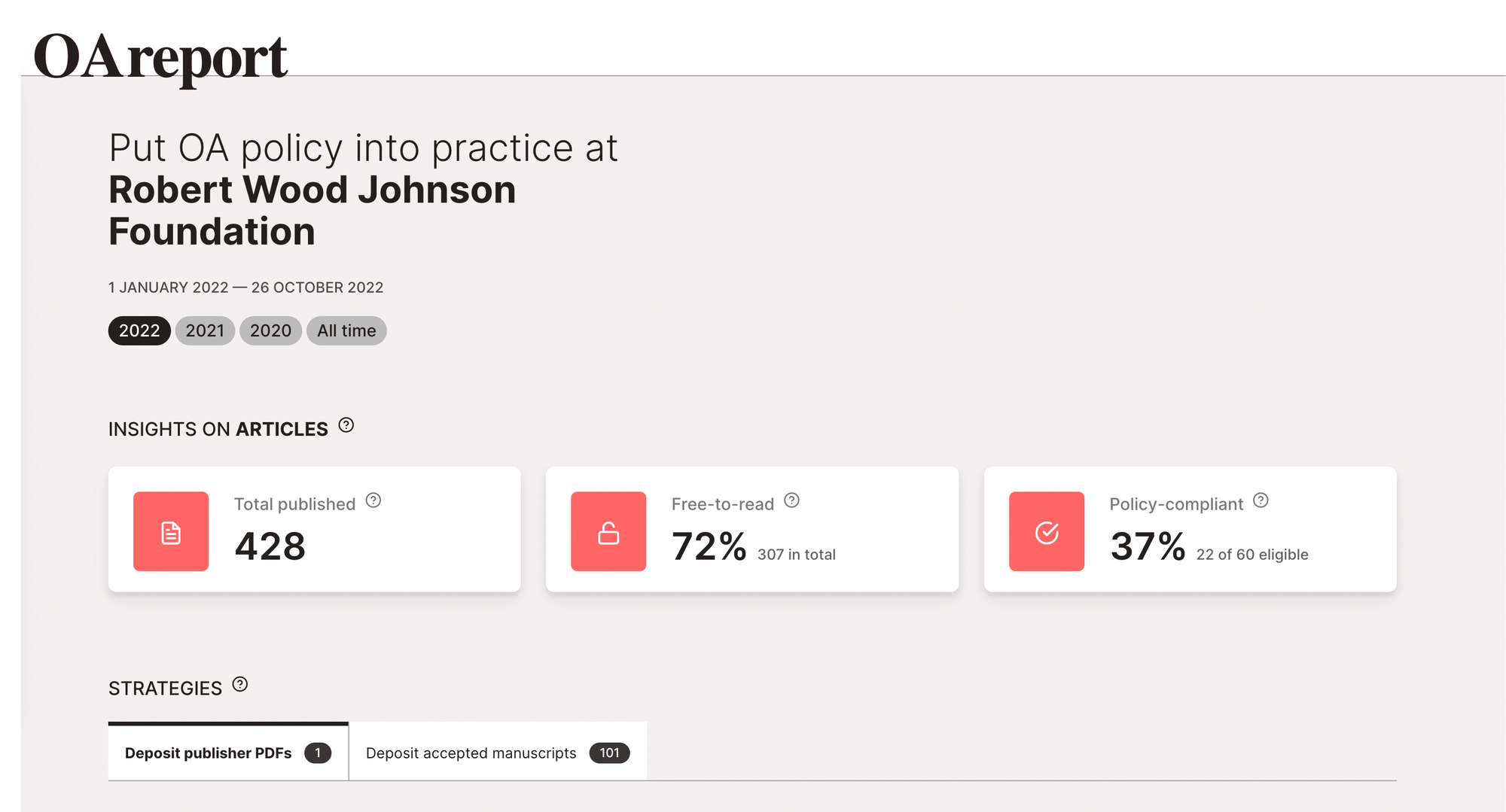 RWJF's support of OA.report will enable us to work with RWJF to trial the tool, and use that experience to make improvements that support it's use for other funders and libraries. As a part of the project, we'll analyze the Foundation's Open Access policy, import existing data from their repository of grant outputs, and measure the impact of their publications.
We want to thank Robert Wood Johnson Foundation for their generous support.
---
Support for this work was provided in part by the Robert Wood Johnson Foundation. The views expressed here do not necessarily reflect the views of the Foundation.
The Robert Wood Johnson Foundation (RWJF) is committed to improving health and health equity in the United States. In partnership with others, we are working to develop a Culture of Health rooted in equity that provides every individual with a fair and just opportunity to thrive, no matter who they are, where they live, or how much money they have. For more information, visit www.rwjf.org. Follow the Foundation on Twitter at www.rwjf.org/twitter or on Facebook at www.rwjf.org/facebook.
OA.Works is a non-profit project building tools so that open access is easy and equitable. They're free, open source, and co-designed with advocates for a just world. OA.Works is fiscally sponsored by Code for Science & Society.